It' a new year with heaps of new exciting party trends. And the one we're most excited to shout about in 2020 is Magical Unicorn Party!
I love the world of fantasy and all of it's creatures. My favorite creature of all, thought, is the unicorn. Their shimmery manes, horse-like nature and symbolism for goods has enchanted me since childhood. Therefore, I can't wait to show you how to add a little unicorn magic to your next celebration.
Read on to find out how to throw your own mythical unicorn party:
1. The Planning Guide:
Ready to start planning your unicorn birthday party? Then make sure you check all the following off your party planning list:
Pick a location and date.
Make a Guest List.
Find and save your favorite unicorn party ideas for later.
Create and send invitations a month in advance.
Order special decorations like banners, cakes, and other party supplies ahead of time.
Pick up decorations that can be found or made locally.
Create party favors.
Charge your camera.
Create a party playlist.
Plan party activities and games.
Pick up food and drinks.
Decorate the house at least a day ahead.
Get someone to help you decorate, make and plate food, and coordinate for the day of.
2. The decorations:
Step one – Pick your Unicorn Invitations
Kids of all ages love unicorns. Whether you're planning a birthday party, baby shower, special sleepover or other event, these standout invitations are sure to be a hit.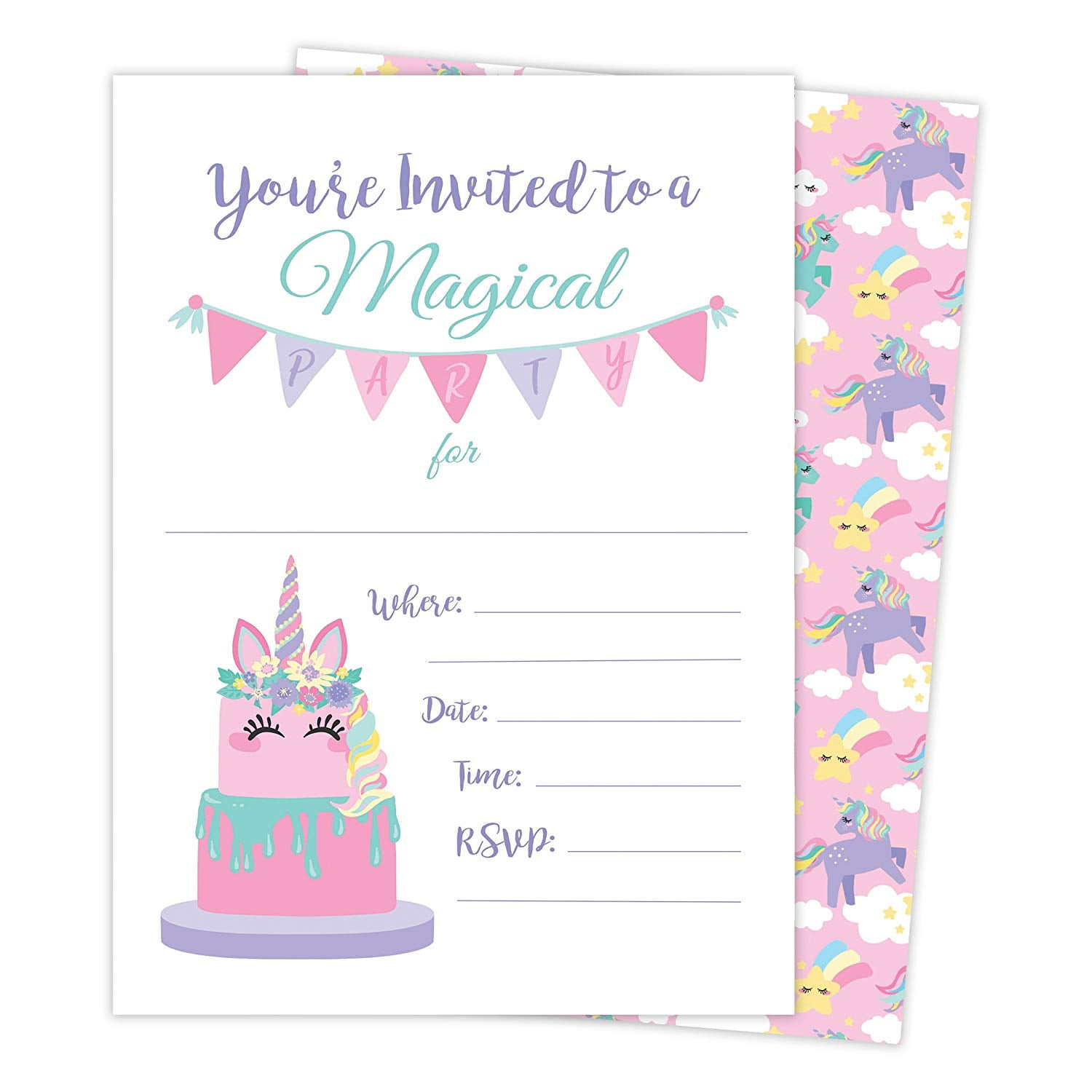 Get the kids excited for a magical gathering with a stunning unicorn invitation! With rainbows, mermaids, princesses and more, our free invitation templates cover all your favorite unicorn looks.
Get the Unicorn invitation cards here.
Rainbows, and unicorns, and birthdays– Oh my! These vibrant birthday invitations are a fun and colorful way to let your guests know exactly what to expect.
Get the Unicorn invitation cards here.
Step 2 – Pick your partyware!
Pastel colors with a hint of sparkle are the perfect color scheme for a unicorn party. So we used our Unicorn Party Supplies – one of our favorite party ranges! These unicorn plates are almost too good to cover them with food!
We love these unicorns napkins too – the touch of gold is subtle but stunning!
Step three – Pick some unicorn party decorations!
As for unicorn decorations, keep them simple but cute! This unicorn light would look magical sat on your buffet table and these iridescent foil curtains would look perfect hung along the walls.
Transform your party balloons into something from fairytales. With just some simple construction paper, foil and tape, you can easily create these floating unicorn balloons.
Get them here.
3. Unicorn Party Food Ideas
Once you've chosen your unicorn party decorations and sorted all your essentials, it's time to think about unicorn-themed party food!
Themed party food will add an extra magical touch to your unicorn party but it doesn't have to be super complicated or time-consuming. Here are some simple suggestions for unicorn party food.
The party menu is one of the most important features of a unicorn birthday. Making sure the food and dessert is as colorful as it is delicious is key (even if it feels a little tricky). Here's some of our favorite themed dessert ideas:
a. Unicorn Cookies
As amazing as these cookies look, they're actually pretty simple to pull together. All you need is a unicorn cookie cut out, cookie dough, white frosting, rainbow candy, and pearl sprinkles.
b. Magic Cupcakes
The kids are guaranteed to love these adorable magic unicorn cupcakes. With the colorful frosting, pearl sprinkles, and candy details, they're almost too pretty to eat. Almost.
c. Unicorn Cake
This is the real centerpiece of your party, so you'll want to take the time to get it just right. Whether you're ordering a custom cake or making it yourself, some simple piping, frosting, fondant, and chocolate coated cone can easily transform a simple cake into something spectacular.
d. Cake Pops
Simpler, bite size treats for kids might be ideal for a party with younger children. You can make the details from scratch or buy a kit ahead of time to make your unicorn cake pops the highlight of the party.
e. Frozen Hot Chocolate
Who doesn't love a frozen hot chocolate? And you can transform them into a party favorite with whipped cream, sprinkles, marshmallows, and a little food coloring.
f. Rainbow Macaroons
For a slightly more sophisticated look, try making some rainbow macaroons for the dessert table. And don't forget to add plenty of rainbow sprinkles.
And there you have it! Now your know how to throw a stunning Unicorn birthday party, visit Unilovers™ to pick up all the Unicorn party supplies featured in this post.