My unicorn obsession continues and this time I decided to deck the halls with all things glitter and sparkle. These unicorn ornaments are so fun to make and my daughter has been begging me for them after spotting some last year. I was a little bit nervous to work with polymer clay for the first time but it ended up being way easier than I expected.
I made glitter ornaments a few years ago and fell in love with the process. I did a ton of testing to find the best glue for long-lasting results and I'm happy to report my ornaments are still holding up after a few years!
DIY ESSENTIAL MATERIALS:
Here are some crucial supplies needed to make stunning glitter Unicorn ornaments:
– Clear ball ornaments
– Glitter
– Floor Cleaner
– Craft Clay
– Black Paint Marker
– Stickers Flowers
– Sticker Letters
– Stiff White Felt and Pink felt
– Glue gun
– Optional – Sticker Stars, Snowflakes
*It also helps to have parchment paper, and two small funnels to keep the mess to a minimum.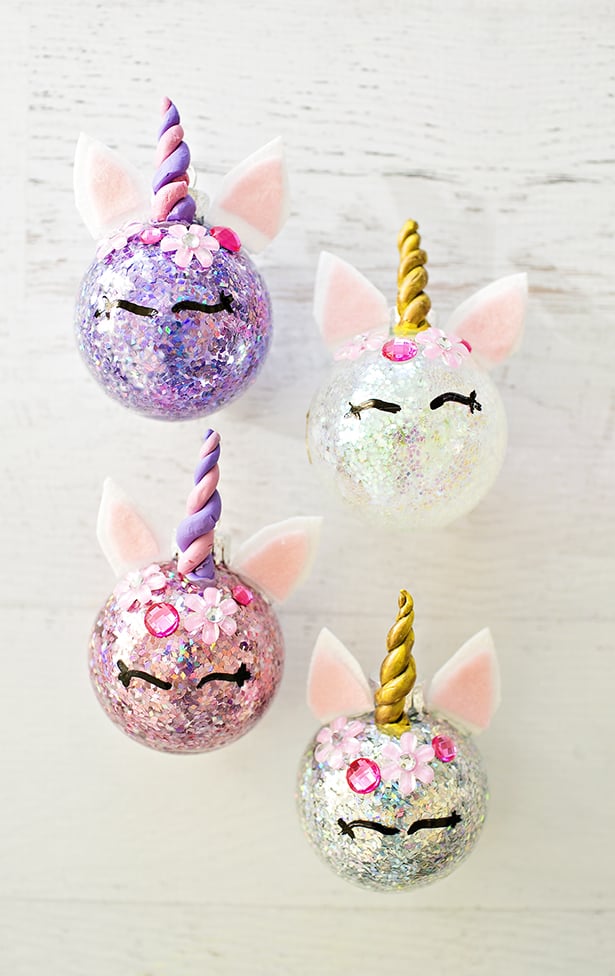 To Glitter Ornaments:
– Lay parchment paper down on your table.
– Remove the ornament hook, add some floor cleaner via a small funnel inside your ornament. Swirl to coat evenly.
– Shake glitter inside your ornament, all round, and tap out excess.
– Using parchment paper to catch the extra glitter is helpful because then you can add it back into the glitter jar using another small funnel.
To Make the Unicorn Glitter Ornaments:
– Roll the clay into two strips with your hands and twirl into a horn. We used colored clay and also used yellow clay we painted gold. Snip off the lenght of the horn size you need. Allow to dry overnight.
– Glue the horn to the top of the ornament (you can use regular or hot glue). Add sticker flowers. Draw eyes using a black paint marker.
– Cut out ears from white stiff felt and also the inside pink felt. Hot glue to the top of the ornament.
– Add sticker letters to the back to personalize your unicorn ornaments.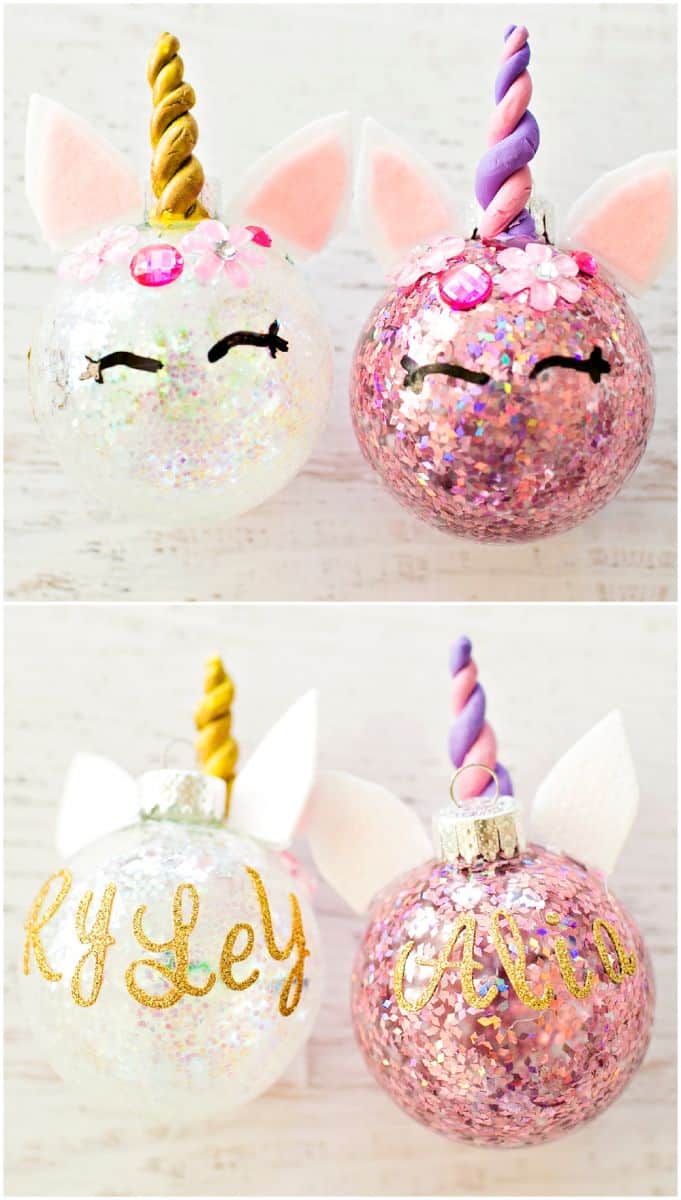 Other ways to decorate your glitter ornaments: 
– You can simply just add a name using sticker letters
– Or add sticker stars or snowflakes – this is fun and easy for kids!